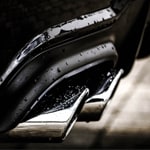 An exhaust leak is a common problem with vehicles that should be addressed right away to optimize performance. When you have an exhaust leak, you are likely to experience issues with how well your car runs. Trouble getting your vehicle up to speed is usually a problem when there is a leak somewhere in your exhaust system.
If you notice an odor while driving your vehicle, you could have an exhaust leak causing fumes to come back up into your car. Any strange smells coming from your vehicle while you are driving should be investigated further.
Your vehicle also may have an exhaust leak if you hear weird engine noises, or your vehicle is suddenly getting poor gas mileage. If you suspect that you have a leak somewhere in your exhaust system, get your vehicle serviced to prevent the problem from getting bigger. Take care of your vehicle, and optimize performance with good maintenance from our service center here at Duval Chevrolet in Starke, FL.