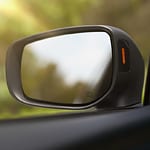 A visual indicator and an accompanying beeping sound could prevent an accident. Visual, audio, and tactile alerts may allow a blind-spot monitor to warn a driver before he/she makes a lane change. Drivers can't always see what is behind them or off to the side, and a blind-spot monitor lends much-appreciated safety assistance.
Blind-spot monitors use sensors to determine if something enters an area outside the driver's line of vision. A motorcycle might come out of nowhere, and a driver could change lanes as the motorcycle arrives. A deadly accident may then happen.
Of course, drivers must act responsibly behind the wheel. Avoiding blind-spot collisions involves looking at mirrors and the road itself. Using a turn signal is essential when changing lanes, too.
However, drivers make mistakes, and a blind-spot monitor might alert them before they hit someone on a Starke, FL road. Duval Chevrolet may interest car shoppers looking for vehicles with advanced safety tech features.