2019 Chevrolet Equinox Driving Impressions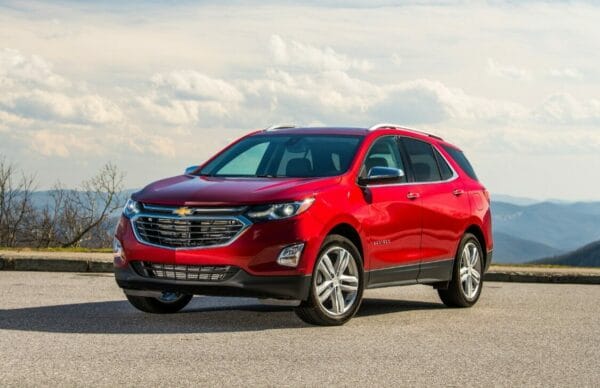 All gasoline-engine Equinox versions drive easily and perform well, while delivering good ride and handling qualities.
Most buyers should find the 1.5-liter engine to be wholly adequate, offering abundant energy for in-town driving. The 2.0-liter turbo-4 is stronger, and Shift quality is good with the 6-speed automatic in 1.5-liter models. It's better than the 9-speed automatic, which can feel indecisive when shifting.
Every Equinox provides a quiet, composed ride that's comfortable and supple. Passengers can expect welcome isolation from the pavement.
Good handling is helped by confident steering that's light but accurate. Models with 17-inch Michelin tires can feel a bit uneasy when pushed harder. High-end versions with 18-inch tires deliver crisper handling, without impairing ride comfort noticeably.
Although the diesel engine provides decent performance, towing capacity is only 1,500 pounds. An Equinox with the 2.0-liter turbo-4 can haul up to 3,500 pounds.
Equipped with part-time all-wheel drive, an AWD Equinox isn't truly ready for off-road exercises. The system can be set to two-wheel drive, but must be flipped back to AWD when bad weather arrives.
For a crossover SUV, the Equinox can be quite frugal. With the 1.5-liter turbo-4 and all-wheel drive, the Equinox is EPA-rated at 25/30 mpg City/Highway, or 27 mpg Combined. Front-drive is thriftier at 26/32/28 mpg.
Premium gasoline is needed for the 2.0-liter turbo-4 with all-wheel drive, EPA-rated at 22/28 mpg City/Highway, or 24 mpg Combined, Front-drive raises the estimate to 22/29/25 mpg. The turbodiesel is EPA-rated at 28/38 mpg City/Highway, or 32 mpg Combined with all-wheel drive, versus 28/39/32 mpg for front-drive.
1Dealer Discount applied to everyone.